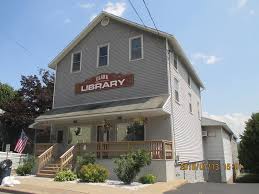 Library Hours:
Mondays/Wednesdays/Fridays – 9:30am – 5:30pm
Tuesdays/Thursdays – 2:00pm – 8:00pm
Saturdays – 9:30am – 12:30pm
Sundays – Closed
Shop at Amazon – Support the library.
For more information, click here.
Make Your Own Stuffed Animal
At the C W Clark Memorial Library on April 22, make your own stuffed farm animal. We've hosted this event a number of times before, and the children have a great time, and take home a new friend. Registration is REQUIRED before APRIL 7. A $5.00 deposit is required, but will be returned at the event. There is 8 different animals to choose, and a choice must be made at registration, which must be done at the library. Space is limited, and is on a first come, first serve basis with paid registration. Hope to see you there! This is a Noah's Ark Adventure Workshop.
Annual Easter Egg Hunt
Come to the Easter Egg Hunt at Douglas Park in Oriskany Falls on Saturday morning, April 1, beginning at 10:00 am sharp. There will be three age groups: 1-4, 5-7, 8-11. There will be lots of eggs for the kids to find, filled with either candy or a small toy, and there will be some special eggs as well. No child will be allowed to have more than one special egg. Not all children will get a special egg. The special eggs may be turned in for special larger prizes. Bad weather, which includes rain, snow, or a very wet and muddy field at the park, will cause the Easter Egg Hunt to take place in the library in a limited capacity. Come have some fun and meet the Easter Bunny. He will be wherever we have the hunt.
Board of Trustees' Meeting
The Library Board of Trustees meeting is scheduled for Tuesday, March 21st, at 5:30 pm in the library conference room in the basement of the library. The meeting is open to the public, and public input is welcomed. Documents will be available at least 24 hours before the meeting. For more information on the meeting, click here.
Driving Permit Tests –
NYS DMV
Permit Tests
Get ready here –
Study and take practice tests.
Read the Library Bill of Rights at the American Library Association website here.