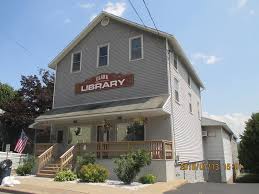 Library Hours:
Mondays/Wednesdays/Fridays – 9:30am – 5:30pm
Tuesdays/Thursdays – 2:00pm – 8:00pm
Saturdays – 9:30am – 12:30pm
Sundays – Closed
Shop at Amazon – Support the library.
For more information, click here.
Annual Village Garage Sales
The Village of Oriskany Falls Garage Sales Days will be Thursday, June 15 – Saturday, June 17. Sign up at the library before June 7th to be included on the map, or you can register online here. Maps will be available at the library and on our website by June 9th. You may find just the treasures you are looking for!
Sign Up for Summer Reading Now
Sign up for the Summer Reading Program now. We begin on July 10 and run through the end of August with a carnival on August 11 in Douglass Park. Don't miss out on all the fun! Register now at the library or online here!
Board of Trustees' Meeting
The Library Board of Trustees meeting is scheduled for Tuesday, June 20th, at 5:30 pm in the library conference room in the basement of the library. The meeting is open to the public, and public input is welcomed. All meeting documents will be available here within 24 hours of the meeting.
Driving Permit Tests –
NYS DMV
Permit Tests
Get ready here –
Study and take practice tests.
Read the Library Bill of Rights at the American Library Association website here.