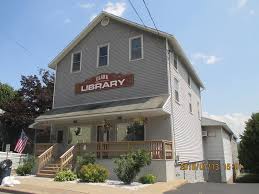 Library Hours:
Mondays/Wednesdays/Fridays – 9:30am – 5:30pm
Tuesdays/Thursdays – 2:00pm – 8:00pm
Saturdays – 9:30am – 12:30pm
Sundays – Closed
Christmas Craft Show & Basket Raffle
Great Success!
The C W Clark Memorial Library would like to thank everyone involved in the craft show and basket raffle for their support to make it a success.
First, the crafters and vendors who spent their day at the library. We thank you for being there, and we hope you had a successful day yourselves.
Next, to all those who donated baskets and gift certificates for the raffle, thank you all. Without your donations, we couldn't continue to provide the services we do to the public at large.
Next, to the public for showing up. We truly appreciate all of you for being here and supporting the crafters, vendors, and the library. You really made a difference!
And to the volunteers and the staff, thank you also. Your efforts really are noticed. What a great day we all had. We are looking forward to next year already! We hope you are too!
Board of Trustees' Meeting
The Library Board of Trustees meeting is scheduled for Tuesday, January 17th, at 5:30 pm in the library conference room in the basement of the library. The meeting is open to the public, and public input is welcomed. For more information on the meeting, click here.
Driving Permit Tests –
NYS DMV
Permit Tests
Get ready here –
Study and take practice tests.
Read the Library Bill of Rights at the American Library Association website here.