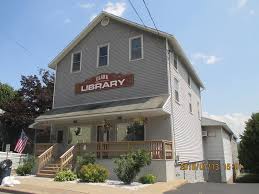 Library Hours:
Mondays/Wednesdays/Fridays – 9:30am – 5:30pm
Tuesdays/Thursdays – 2:00pm – 8:00pm
Saturdays – 9:30am – 12:30pm
Sundays – Closed
Help Wanted: Customer service oriented person to work 10 hours per week, evening hours. Duties include preparing, shelving, and pulling books, and program development. Full job description available upon request. We are a civil service employer. Minimum requirements are a high school degree. Equal opportunity employer. Apply at C W Clark Memorial Library, 160 N Main St, Oriskany Falls, NY.
The C W Clark Memorial Library Trustees and staff would like to thank all the crafters and vendors for attending the Craft Show & Basket Raffle as well as all the public for their donations of baskets for the raffle. Without you all, we could not have had a successful day.
Thank you also to all the people who stopped in and visited the crafters and vendors and helped them have a successful show as well. They had some wonderful items for everyone to buy.
Thanks again everyone!